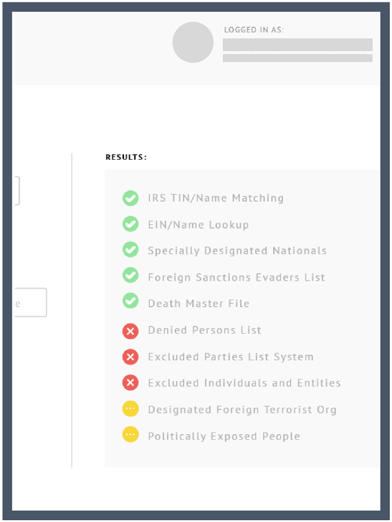 REAl-TIME IDENTITY VERIFICATION
Our Real-Time Verification validates the vendor/contractor's name and Taxpayer Identification Number (TIN) against the IRS database, returning your results in seconds. Validating the information provided to you on the W-9 helps limit your exposure to incorrect filing penalties from the IRS when you file your 1099 forms. Those penalties can reach $100 per incident, not to mention the expense of your time to respond to the IRS.

In addition to the IRS check, we also verify the information against several other databases, including the Death Master File, OFAC, and the Denied Persons List among others. Protect yourself and your company by always verifying the vendor/contractor you hire is who they say they are.
SECURITY
Securing your data has never been more important. Exakto provides bank-level security with 256-bit encryption of all data, whether at rest or in transit. All of your data resides in the US and never leaves the country. We completed a successful SSAE-16 Type II audit. Exakto takes every precaution to ensure your data remains secure.
Join the new, better way today!

Sign up now for Free Trial
No Credit Card Required & No Hidden Fees
Security features: 256 bit SSL . SSAE 16 . and more